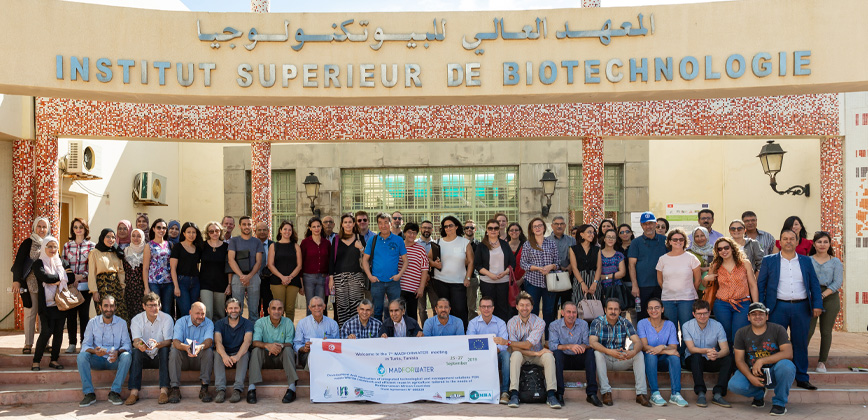 On the 25th, 26th and 27th of september the MADFORWATER partners gathered again, this time in beautiful Tunis for the 7th project meeting.  During this project meeting the general progress of the project was discussed, as well as future steps needed to complete before the final meeting in May 2020.
Discussions, updates and presentations
On the first day the focus was on the water vulnerability assessment framework and water management strategies. An update on the irrigation technologies developed by IRSTEA and ROLLAND was discussed, and each pilot plant presented an update on the installation and start-up. The second day all partners participated in an exploitation workshop and in the afternoon the focus was on the policy recommendations and guidelines for the adaptation of the MADFORWATER tools and technologies in other countries.
Visit to the pilot plant in Chotrana
On the third day we all visited the municipal wastewater pilot plant in Chotrana, Tunis. The installation and start-up of this pilot plant is currently in progress, so we had the opportunity to see the train of multiple integrated treatment technologies up close. We also visited the irrigation pilot plant at ISBST-UMA, where the treated wastewater is used in a pilot plot of land to grow crops.
We would like to thank all partners for their efforts and input during the meetings and discussions, and also a special thank you to our local partners for organizing the event.
Interested in the MADFORWATER project? Please subscribe for our newsletter or send an email with your request or questions. You can also follow the project on Twitter, Facebook and LinkedIn.